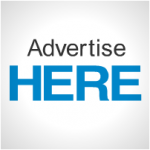 To advertise
your book
on our site,
see this post.
---
If you don't have a blog with excerpts of your novel(s), you should get one.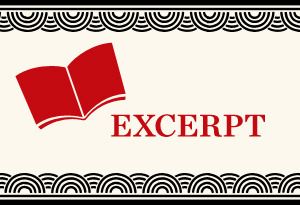 H
aving excerpts on your blog is important for another reason. Our updated promo forms for this site include a spot to give us a link to an excerpt of the novel you are paying us to promote. Though it isn't a required field, it is highly recommended. In fact, I can't really think of a reason you wouldn't want to showcase some of your novel on a
complete
* post about said novel.
"What if I don't have a blog?"
If you don't have a blog but would still like to promote your book on this site, you can still have an excerpt. You just have to post it somewhere online where I can easily access it. The one way I don't want it is through email. I will either lose it, or it will take too long for me to find it. To keep my prices as low as they are, I want the process to be as efficient as possible.
Where can you post an excerpt?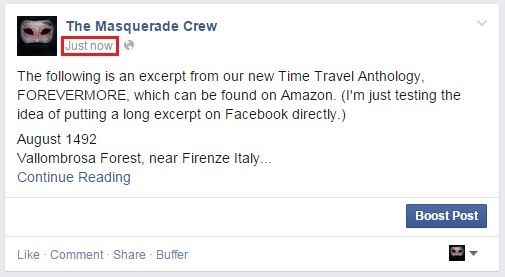 Facebook
would be my next choice after a blog. After you post it, click on the link that says "Just now" like in the picture to the right. (I added the red box.) That will direct you to the excerpt directly. The URL of that page will work just fine for our promo purposes.
If you come back to get the excerpt link at a later time, it won't say "Just now." Instead it will have a date or how long ago you posted it. Either way it goes to the same place. Easy peasy. In fact, if you do it correctly, it's probably easier than a blog.
To see what a Facebook long excerpt looks like, check out
this link
.
Just Paste It.
If you don't have a blog or Facebook ... why are you online? Kidding aside, another option to post text online is
justpaste.it
. It's simple to use and secure if you don't want people to see your excerpt ahead of time.
The excerpt I put on Facebook can be accessed from Just Paste It at
this link
.
The Important Thing
The most important aspect of this excerpt system is that you give me a link that goes directly to your excerpt. Don't make us hunt for it. We may just skip it. That's also why I don't want excerpts delivered through email. Don't make it hard on us.
One more tip.
Make sure to put white-space, a blank line, in between your paragraphs. It's extremely hard to read an excerpt online that is bunched together like it would be in a paperback. Please don't make us put the white-space.
---
Footnote
: I say
complete
because we do highlight books in other types of posts. Sometimes you get a synopsis; other times you only get a cover. But that's not the kind of promotion I'm talking about in this post.