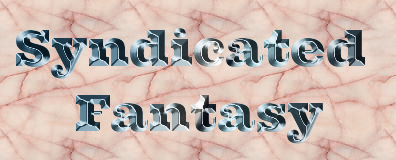 T
his is kind of a last minute idea. I was browsing through blog posts that are waiting for me to syndicate, and I got to thinking. Why not have some theme specific guest posts or syndication as part of Fantasy Month? So, here's the deal. If you would like me to syndicate an article or blog post of yours with a fantasy theme, send me an email. If you have a fantasy topic you'd like to write about, I'll most likely accept it (and you would be welcome to post it elsewhere as well).
Here's my email address.
msl_007@live.com
The subject of the email should be
Fantasy Syndication
. Use this subject even if it isn't syndication, as in a guest post. It will be easier for me to organize myself. In fact, if you don't use the word syndication, I may lose the email as I have Hotmail automatically sort the syndication emails into a Syndication folder. I get so many emails that it is easy to lose stuff in the inbox.
Please include the following in the email.
Your name
Your Twitter Handle
The URL of the post you would like me to repost
A link to your book that you would like me to promote
Any other pertinent info you would like included
If you have more than one article or post you'd like me to consider, please send separate emails. It's easier for me if I have one post per email. After I syndicate something, I throw that email into another folder.
Mystery Month is around the corner
August is mystery month, so I'll be looking for mystery related syndication for then. I have a few already, posts that were submitted several months ago that have a mystery related theme. But I probably have room for more, so if you have a mystery related post you'd like me to use or syndicate, send me an email with the subject of
Mystery Syndication
.
What about other genres?
We'll be tackling Romance and Sci-fi in the coming months, so if you have syndication for these themes, go ahead and submit them. The subject of the emails should be
Romance Syndication
and
Sci-Fi Syndication
, respectively.
Fantasy Month Scavenger Hunt
a Rafflecopter giveaway