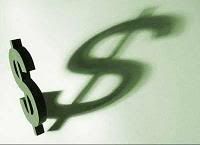 This is the sixth part of a multi-part series devoted to our plans for a writing contest. To read this from the beginning or to see a full list of posts as they are posted, please refer to
this page
.
Since we are still in the planning stages, be aware that any of the following is subject to change at any moment (though I doubt it).
I've hinted at the idea that our upcoming contest might have a cash prize attached to it. After getting about ten responses of interest, I was not surprised that no one stepped forward to offer a donation; after all, money's tight for everyone, and the Masquerade Crew is not a well known entity yet. Since then, however, a few people have offered a donation. I've not contacted them, so there's no telling where that interest will lead.
Even without money dangling in front of the contestants, there's plenty of reason to enter our little contest, and I'm not even talking about the chance of getting published, though I hope our efforts are successful. Building worthwhile contacts in the self-publish industry is probably worth more money than I know how to raise, but that doesn't mean I won't try. A little financial incentive could give this contest some real reach, which would make those contacts worth even more.
I've spent a little money on this project. Not a whole lot, thankfully, and even though I would love for this little hobby of mine to turn into a career one day, it wouldn't be wise to spend more money than I am capable or comfortable with. But here's what I will do: I will match total donations up to a certain dollar amount. I have a couple of numbers in my head, but I won't share them right now in case I decide to go with the lower number.
But I will give one further assurance that your small donation will not be wasted. In addition to being promoted as a contest benefactor, I'll throw in ad space on our two sites, the main site and our sister Tumblr blog. Those that donate more will get a bigger space and/or a longer up-time. Since our pageviews and visitor count are not really high, even a small $5 donation will buy ad space for a considerable amount of time.
I don't exactly know what the going rate is, but I will make sure you get more than what you would spend elsewhere. And since 100% of your donation (minus any fees we are charged in obtaining it) will go toward the contest, you are actually getting the ad space for free.
I think the donation drive should be shorter than the other parts, so I will end it here. Thank you in advance for anyone who gives toward this project. If you have not officially expressed interest in the project, you may do so
here
.